September 16, 1997
Electronic Network Consortium

Operation of the first PICS compliant label service bureau in Japan
Enabling users or supervisors to control access from their PCs to inappropriate on the Internet
The Electronic Network Consortium (ENC) that comprises more than 90 organizations including major online service providers has been promoting the provision and the dissemination of blocking capabilities for the Internet content available to users or supervisors, including parents, teachers, and company administrators. This will enable blocking information inappropriate for some audiences, at least some of the time, depending on their controls.
The New Media Development Association (NMDA) that hosts the ENC has been engaging in developing PICS-compatible blocking software for the Internet. This is part of the "Creative software development program" funded by Ministry of International Trade and Industry (MITI) through the Information-technology Promotion Agency.
From today the ENC begins operation of a database system that rates and labels each home page on the Internet (the PICS-compatible label bureau). Also beginning is the on-line distribution of software that incorporates the system into the user's PC (the filtering software for Windows95 users).
The blocking capabilities will establish a user-oriented Internet access that respects the users' rights of "Wish to know," "Don't wish to see," and "Don't wish to show (to children)." Senders' freedom of information dispatch is nevertheless respected.
1. History

The Internet, through its worldwide deployment and dissemination as a social infrastructure, has contributed to the progress of academic and industrial activities. The Internet has also provided individual users with a great convenience for communicating with others and for retrieving a wide range of information. Because the Internet, however, enables users easily to send data around the world, information has been made widely available that some entities consider objectionable. Such questionable information includes slanderous or malicious messages, pornography, and information that may be used by terrorists. These types of information thus present a significant social issue. Legal restrictions may be imposed to deal with the problem, but the practical global trend is for users to implement defensive action by utilizing the state-of-the-art technology to receive information on a selective basis.
The ENC released to the press last November "An initiative to promote the provision and dissemination of Internet blocking capabilities." This was followed in August of this year by "Creation of the first PICS compliant label bureau in Japan." Since then the ENC has been promoting the provision and dissemination of PICS-compatible blocking capabilities based on the internationally adopted RSACi and other rating systems. The ENC has also been supporting and working cooperatively with on-line service providers to supply blocking software to users. The New Media Development Association (NMDA) that hosts the ENC has been developing PICS-compatible blocking software for the Internet. This is part of the "Creative software development program" funded by MITI through the Information-technology Promotion Agency.
2. Operating Japan's First Label Service Bureau
-- Configuration of the label service bureau
The label service bureau that starts operating today is configured with server software that functions in compliance with a standard specification called PICS specified in the World Wide Web Consortium (W3C). Also included in the configuration is a database that comprises URLs (Uniform Resource Locator: Web page address on the Internet) that are rated and labeled according to the rating system. The label service bureau is also equipped with a cooperation function with search engines, including clipping of retrieved data at search engines and robot-based retrieval. The bureau moreover has a GUI (Graphical User Interface) for label registration, retrieval, renewal, and deleting. These functions will facilitate label-service-bureau creation and management.
-- Rating system
The rating system for adding a label is based upon the RSACi extension. The rating value aims at international compatibility. The system tentatively includes a "Extension" category so that new categories such as drugs and gambling may be added to extend coverage. The figure in each category represents its rating value. The file that describes this rating system will be distributed along with the filtering software.
When it comes to actual rating procedures, instances may occur where ratings are difficult to determine. A more detailed instruction manual has thus been prepared by referring to the self-regulated rating systems of the Japanese package media industry. Furthermore, for cases that might bring about two totally opposite evaluations (for example, some might appreciate a nude photo as art while others might despise it as obscene) no rating will be made from such subjective impressions, but rather through the objective procedure of measuring the extent of body exposure.
-- General description of the label database
The database is constructed by adding a label through paying attention to the keyword at search engines and by viewing each page obtained from the result retrieved from major search engines in Japan.
Two groups of major keywords have been picked up for blocking; (a) a keyword concerning sex such as "adult," "sex," "nude," "vice," "Lolita," or "SM," which are usually included in the top twenty key words for search at search engines; and (b) a keyword concerning violence such as "violence," "murder," or "corpse," which are rarely included in the top keywords but are considered to affect juveniles. Accordingly, blocking capabilities are available for more than 12,000 home pages.
The total number of home pages worldwide is estimated to number from 60 million to 70 million. It is therefore impossible to pick up and block every one of the home pages that might include inappropriate contents. The database's construction, however, is considered to assure blocking of most of the objectionable contents offered in Japanese that are accessible via normal retrieval.
-- Database renewal
Inasmuch as home pages are created and renewed every day throughout the world, regular renewal is requisite for the database. Renewal will be implemented via notification from users or by exchanging views with entities educationally involved.
In addition, computer administrators and users can input URLs and rates into their own computer to block when they find any objectionable content on the Internet.
3. Filtering Software Characteristics

-- Browser-independent
The released version of the filtering software for Windows95 that starts to be distributed today through the Internet has a function to block rated pages according to the PICS specifications, depending on the level set by the PC user. The replacing thus occurs near the OS function so that the software will work either on the Netscape Navigator or Internet Explorer.
-- Diverse ratings are available to suit user needs
Available are those rated (a) by school teachers or parents, (b) by third parties (ENC, etc.), and (c) at the sender's own volition (such as by the U.S. Playboy magazine). When two or more ratings are being implemented, blocking is executed on a priority basis in the order of (a) to (c) above.
-- A white list is also available
In addition to the function to select pages rated according to the level set by the PC administrator, a function is also available to display home pages registered on the white list.
-- Also available for transferring files and network news
Blocking capabilities are available not only for viewing home pages but also for transferring files and network news.
-- Free software
The filtering software distributed is free because the project is an experiment for solving problems on the Internet and for encouraging educators obliged to learn about blocking capabilities. The E-mail support will be provided to assist users experiencing installation or operational difficulties. Version upgrades are in the works.
The filtering software for Macintosh will be distributed in October. Also planned are authoring tools for Windows95 and Macintosh to enable self ratings for information dispatchers.
4. Cooperation With External Activities

-- Cooperation with the "one-hundred-school networking project" The ENC further intends to promote blocking capabilities in the field of education through cooperation with the one-hundred-school networking project implemented by MITI. This is a program to provide one-hundred elementary schools, junior-high schools, and high-schools throughout Japan with an Internet access environment. Problem-solving evaluation will be coincidentally conducted via this project.
-- Utilization as a basis for further private-provider business The rating work depends upon a subjective viewpoint under a rating system created according to a singular value. It is therefore desired that two or more label service bureaus be established, each predicated on a different value and subjective outlook. The ENC will strive to achieve the operating services of two or more label service bureaus adhering to different values. The ENC will do this by providing technical assistance such as bureau software. This is in response to the move for creating label service bureaus by private and other providers.
-- Cooperation with international standardization work This work will be introduced at the first meeting of International Working group on Internet Content rating, which will be held in England at the end of this month. The ENC will cooperate in creating an international rating system based upon PICS and RSACi.
-- Further dissemination and encouragement of blocking use The ENC will further proceed with disseminating, encouraging, and following-up on the use of blocking capabilities by providing capabilities-consultation and by calling for self-rating-system implementation.
Contact: Noboru Shimizu

Electronic Network Consortium
23F, Mita-Kokusai Bldg, 1-4-28 Mita, Minato-ku, Tokyo, 108 Japan
Tel: +81-3-3457-0671
Fax: +81-3-3451-9604
E-mail: pics-info@nmda.or.jp
---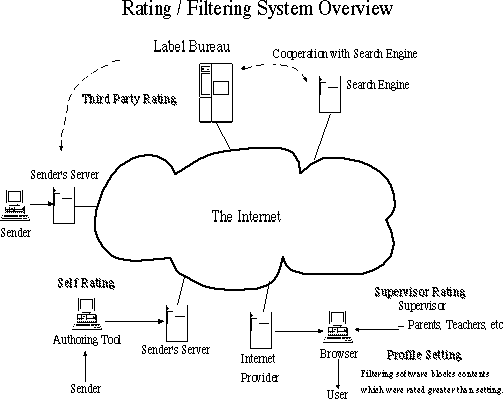 ---
---
e-mail address pics-info@nmda.or.jp
---
(c)1997 ELECTRONIC NETWORK CONSORTIUM
---